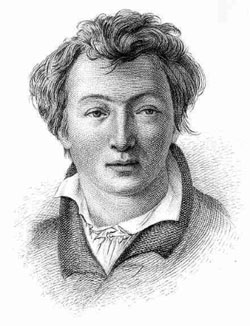 Harry (Heinrich) Heine
A quote here from Max Brod's biography of Harry (better known as Heinrich) Heine, Heine: The Artist in Revolt. It has about it the very strangeness that makes Heine, for me, more rewarding to read than the currently influential Friedrich Hölderlin:
Now that I come to discuss [Heine's] masterpieces it is no more than fitting that I should make due acknowledgment of the way in which he trampled over every inner and outer barrier and crushed all difficulties. The force with which the Absolute in a work of art conquers the hazards and tricks of human life may be compared perhaps with the power of death emanating from the Universe; with the supreme cosmic force that, in the moments of the dying man's last feeble struggles, not so much overpowers him as with a slight gesture reduces him to a cipher.
I've been walking around inside this quotation for a few days now and have still not come to its boundary. It leads nicely into Brod's translation of this passage from a poem of Heine's, the title of which he (Brod) evidently expects us to recognize without his help—a weakness of his book, I think:
When the spring-tide comes and sun's in the sky,
Then flowers bud forth and shoot on high;
When the moon begins its pale like to shed,
The stars in the heavens leave their bed;
When the poet beholds two lovely blue eyes,
Then poems from the depths of his soul 'gin arise;
But poems and stars and moon and sun,
And flowers and eyes, when all's said and done,
For all the pleasure they give,
Are not the stuff by which we live.
The gist here, and its reversal in the last line, is typical of Heine, as is the lightness of the music, by comparison with the fraught pseudo-hymns of Hölderlin.