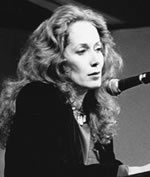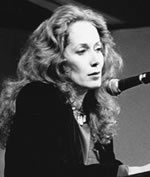 Unless one is promiscuous by nature, one needs a decent interval between leaving one lover and finding another.* One needs a similar interval after reading writers as strong as Bolaño and Parra. But I'd brought a stack of books to Mexico with me, and some secret drive to read them all before coming home made me move directly on to Daisy Zamora's The Violent Foam: New and Selected Poems, published by Curbstone Press in 2002.

Zamora is a Nicaraguan poet whose distinguished family ("including a president of Nicaragua and a president of El Salvador," her translator George Evans notes in his introduction) was persecuted by the Somozas, along (of course) with the vast majority of Nicaraguan citizens. Zamora, Evans tells us, joined the revolution against Anastasio Somoza in the late 1970s, living "a life of clandestine resistance" and eventually becoming "the voice of underground Radio Sandino while in political exile." After the Sandinistas toppled Somoza, Zamora helped Minister of Culture Ernesto Cardenal bring about a revival of Nicaraguan arts. All along, of course, Zamora wrote her own poetry, which portrays the forces of history as they play out in the lives of individuals, especially those who lack the power to turn those forces to their advantage. Her portraits of everyday people are understated and direct, with none of the pyrotechnics we find in Parra, and none of the Bohemian angst we find in Bolaño. Zamora encourages us to reimagine the notion of "human dignity" by placing examples of it before us without bombast or exaggeration.

Here's an example, the first of two "Waitress" poems:
She goes from table to table
collecting empty beer bottls,
piles dishes on a plastic tray,
and snatches five glasses
at once,
her thick, tong-like fingers
clicking them together.

Like a fat comet she covers her orbit:
the rushing inflames her face
and shakes her arms and small breasts
under a sky-blue dress with an apron
tied in a bow
above her backside.

She goes
from table
to table,
until the chatter dies down,
the kitchen noises fade,
customers disperse,
buses stop passing,
and the moon is high
above the streetlights.

At closing time,
she puts the chairs upside down on the tables
then sits at the back of the diner.
With difficulty, she pulls off her shoes
puts her feet on a stool
and turns out the pockets of her apron
to count
one by one
the coins of her day.
The lives of women dominate Zamora's poetry: a supermarket worker, a masseuse, abused wives and girlfriends, university students, her own sisters, her aunt, her mother and grandmother—all struggling to live full lives in a macho culture that wants them under control. "Feminist" is too narrow a term for the truths Zamora delivers, as she does in "Final Balance":
She took:
her clothes, her books
and some personal objects.

He got:
the house and its contents,
the patio and its trees.
And the garden she tended.

In brief, he kept everything
minus the children,
who left with her
to make trouble elsewhere.
Other of Zamora's poems seem more personal—and I say "seem" because the "I" in these poems doesn't feel like a historical "Daisy Zamora," but a representative voice such as one finds in certain poems by Cavafy. Here's an example:
CELEBRATION OF THE BODY



I love this body that's lived through life,
its amphora shape, its water smoothness,
its streaming hair that crowns the skull,
the delicate stem of its crystal face
ascending exquisitely from shoulders and collarbones.

I love my back sprayed with muted bright stars,
my translucent hills, wellsprings of the breast
that provide primary sustenance to the species.
Cliff-like rib cage, waist in motion,
my womb a warm, overflowing vessel.

I love the moon-like curve of my hips
shaped by successive births,
the sharp curving wave of my ass;
and my legs and feet, foundation and support for the temple.

I love its handful of dark petals, its hidden fleece
that guards the mysterious entrance to paradise,
the damp cave from which blood flows
and birth-water springs.

This suffering body of mine that gets sick,
that leaks, that coughs, that sweats,
secretes humors and feces and spit,
gets tired, worn out, fades away.

Loving body, a link that insures
an infinite chain of successive bodies.
I love this body made of the riches mud:
seeds, roots, sap, flowers and fruit.
Bringing this kind of poetry over so beautifully into English requires a subtle and respectful sensibility, which George Evans clearly has. I found myself feeling grateful to him almost every time I turned a page.

Now a confession: when I first read Zamora in Mexico, my mind still crackling with the intense energies of Bolaño and Parra, I found her poetry flat and obvious. And yet, back in the States, it was Zamora's people I kept remembering, as if I'd met them in person, as if we'd sat side by side in La Cueva del Pirata (the beach-side bar at Petit Lafitte) and whiled hours away in conversation. And when I returned to The Violent Foam it seemed not only fresh but truthful, humane, profound, and—underneath all the pain it sets before us—joyful after all.

You can read other excerpts from The Violent Foam here.