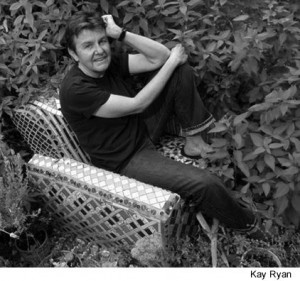 I have to admit I don't know enough about Kay Ryan's work to celebrate or complain about her elevation to Poet Laureate of the United States (a.k.a, POTUS). Ron Silliman chooses to complain, seeing Ryan as "the 47th consecutive School of Quietude poet to hold the position in its 71 year history"; that is, he spins her like a grindstone to sharpen his favorite axe. David Orr, on the other hand, in his New York Times blog entry on the new POTUS, calls her "a terrific poet."

I need to spend more time with her work, but based on what I've seen in journals over the years, I'd have to say she strikes me as a kinder, gentler Stevie Smith. Unlike Smith, whose mercurial nature expressed itself in a wide variety of moods and forms, Ryan seems to have struck a bargain—in exchange for what, I wonder—to restrict her mood to quiet amusement and to allow no more than three accents in a line. In other words, she sets the intellectual/emotional bar low enough so that readers like Orr can be impressed when she clears it, while readers like Silliman can feel miffed that she's not flinging herself from a Piper Cub with a surf board strapped to her feet.
I find myself somewhere in the middle. Her poems are pleasant, but her forms seem arbitrary. As evidence, let me cite a couple of examples Ryan reading her work. The poems appear underneath the audio clip play bar, so you can compare her poems as written with the way Ryan articulates them. One is called "Home to Roost" and the other is called "The Niagara River". As you can hear, her vocal phrasings bear no relation at all to her lines as lines, and for me this is problematic.
I'm not claiming that line endings are a form of punctuation, but they are a form of rhythmical notation. And when a poem lacks rhythm, or its music is little more rhythmical than journalistic prose, it bores me. Let me point to a couple of counter examples: poets whose performance skills are no better than Ryan's, but whose poems—read with a certain respect for the way their lines end—come across as more musical and therefore more interesting. Consider first Jane Cooper's "What the Seer Said", and then Rae Armantrout's "Scumble."
In the end, the POTUS doesn't have to be the nation's greatest poet, although that wouldn't hurt the position, I think. The POTUS should care enough about poetry to raise the bar in his or her own work at least on occasion. As I read more of Ryan's work, I'm hoping to find that she's done so.