This post continues the "anthology" described in the previous post. I recommend you start there!
~~~


From MY HAIR TURNING GRAY AMONG STRANGERS
by Leroy V. Quintana
GRANDMOTHER'S FATHER
Grandmother's father was killed by some tejanos
one winter, hit in the back of the head with a rifle butt
as he was placing his foot into some tracks in the snow
to prove they were to big to be his.
They had accused him of stealing traps from their lines.
After the trial, the tejanos flung their hats
and emptied their rifles into the sky.
One of Grandmother's brothers had to be restrained
from emptying his rifle in anger.
Of all the stories Grandma told me
I wonder why she never mentioned
a word of this to me and whether or not
I should, and if so, how,
tell my children who gather around the TV
the way I sat listening to her
summer evenings on the backyard patio,
winter nights as she swirled sugar
miraculously into candy over the firewood stove.


From SEX AT NOON TAXES
by Sally Van Doren
OBLIGATION
What extravagant
commodity is sex?
If I loan you principle,
will you pay me interest?
I take a lien on you and lick
the sweat under your armpits,
bettering leverage will
establish credit. Your
mortgage sallies forth;
I redeem it with coupons.
Equity builds and we stay
invested, screwing till we're
past due. What do I owe
you once I've paid you?


From THE WORLD CUT OUT WITH CROOKED SCISSORS: SELECTED PROSE POEMS
by Carsten René Nielsen (tr. David Keplinger)
SLEEP
While you sleep, the conscious world is cut out of the universe with crooked scissors. Then you see like an animal again, remember with the body: the shadows that rock the children in their long, thin arms; a stretch of highway that's deserted. If the sleep is deep enough, the soul sneaks into the bedroom and lies down a few hours beside your body. Like a betrayed woman who cautiously puts her arms around her sleeping lover.


From THE MIDDLE WINDOW
by Anita Sullivan
THE ORAL TRADITION
Every day my car radio is a bard
moving through a temporary continent
of hastily-assembling objects.
Today Rachmaninoff's "Rhapsody on a Theme
by Paganini" has raised
seven anomalous church-bell hills
beside the highway, the piano is
laying a series of glass plates
across the green fields, quashing
the sodden, nubbin sheep–
swatches of brown boulder
tilt against my peripheral vision
making erotic gestures in helpless
imitation as the musical phrases
descend from flagrant curve
to shaded folding.
So Homer must have been told,
into the small opening a day will allow,
hill by hill.
From TASTING THE RIVER IN THE SALMON'S FLESH
by Gary L. Lark
I WALK THE VETCH HILLS
I walk the vetch hills
feeding on daisies
and wing curls of crow
Early summer wind stirs
the year like old color
from the bottom of an idea.
Little puffs of thought
cling to moments
clouding movements of mind.
Climbing higher, past
the clear-cut, looking back
I see no trace of me.


From SHE SAYS
by Vénus Khoury-Ghata (tr. Marilyn Hacker)
[Untitled]
She says
migrating birds won't replace the road
and it's not breadcrumbs that will throw the swallows off track
Early this morning
she announced to the larch that her cherry tree had borne its first fruit
It repeated this to the other larches who spread the news through the forest
a forest strong in its privileges which never returns the winds it's been lent
it turns them into howls beneath the trees' bark
and into gallops among the branches
into echoes which lean on the mountain to throw themselves on her cherry tree
To leave with a tree under your arm is hazardous
a stream draws a closed circle around her house
once stepped across the water turns like bad milk




From AND HER SOUL OUT OF NOTHING
by Olena Kalytiak Davis
A SEASONAL DWELLING
The thinking soul is conducting an experiment. The method
of investigation: as soon as you have felt something,
throw it away.
She has discarded several
large cities. There are porches
she refuses to return to.
Rivers and dresses
already seen-through.
Rows of almond trees.
Bridges.
She has never seen the Southern Plains.
Has never dived for memories into a swimming hole
or an ocean. Tomorrow night she hopes
to be lifted once again by painfully clear sky.
To be disappointed once again by aurora borealis.


From WITH DEER
by Aase Berg (tr. Johannes Göransson)
WATER BOTTOMS
It is glowing green here–the light, drops, flutters, reflections, slits of light and lightness in the trembling foliage. Here glowing pearls stick to the thin thin branch. There is a scab on the branch. Inside it the lymph runs slow and sweet. It is dangerous: the shell's surface is perhaps thinner than the liplarvae's glowed-through silk skin. It breathes through a small hole a creature of glass light with no earthly form; it glows through a membrane of saliva secretions. Here the snake also hangs red over the branch; he has human eyes and follows the deer's movement with a calm gaze. But soon the ray will burst out of the branch.
Soon the ray will burst our of the branch. Soon the membrane the poison will erupt. Soon the eye juices will run across the wooden face, while the grass is ground into seed flour in the deer jaws. The sweet stalk will bend backwards toward the pain. And here a feather moves toward the river surface, as she who loves water sinks back through the bottoms of light.


From HALFLIFE
by Meghan O'Rourke
THE CLIMBER IN THE ICE
Morning arrived like a movie screen,
the cold stacked at the edges of my spine.
I woke chewing my own hair;
all I wanted was to be clean.
The stone of the basin
stiffened, the ice stripped the day
chip by chip; you can't see a goddamned thing
under a sky like this. The unsettling dark,
the reeling out. This is how it is.
I can taste the rock, I mean, taste it,
between my teeth.
The things the brain does.

From THINGS ON WHICH I'VE STUMBLED
by Peter Cole
THE GHAZAL OF WHAT HURT
Pain froze you, for years–and fear–leaving scars.
But now, as though miraculously, it seems, here you are
walking easily across the ground, and into town
as though you were floating on air, which in part you are,
or riding a wave of what feels like the world's good will–
though helped along by something foreign and older than you are
and yet much younger too, inside you, and so palpable
an X-ray, you're sure, would show it, within the body you are,
not all that far beneath the skin, and even in
some bones. Making you wonder: Are you what you are–
with all that isn't actually you having flowed
through and settled in you, and made you what you are?
The pain was never replaced, nor was it quite erased.
It's memory now–so you know just how lucky you are.
You didn't always. Were you then? And where's the fear?
Inside your words, like an engine? The car you are?!
Face it, friend, you most exist when you're driven
away, or on–by forms and forces greater than you are.


From THE ZEN WORKS OF STONEHOUSE: POEMS AND TALKS OF A FOURTEENTH-CENTURY CHINESE HERMIT
(tr. Red Pine)
FOR A TAILOR
You rush around waving scissors and tape
busy all day with needle and thread
when you're done measuring others
do you ever measure yourself
*
[from MOUNTAIN POEMS]
A hundred years slip by when you're free
ten thousand cares dissolve when you're still
a mountain image shimmers on sunlit water
snowflakes swirl above a glowing stove
[from "Below High Cliffs"]
Below high cliffs
serene in solitude
not visited by time
the mind creates the word
the window holds a setting moon
the stove contains a dying fire
pity the sleeping man
startled from his butterfly dream
*
Below high cliffs
I face a thousand mountains
one sense finds the source
all six relax
white clouds drift
green water ripples
beyond movement and stillness
there's another world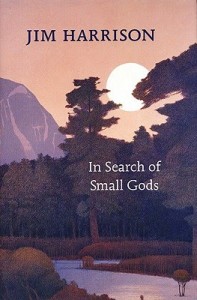 From IN SEARCH OF SMALL GODS
by Jim Harrison
NIGHT RIDE
The full moon dark orange from another forest
fire, and at four a.m. the massive sound of elephants
trumpeting in the yard and in Weber's sheep
pasture next door. Out the bedroom window I saw
the elephants big as shadowy dump trucks drifting
to and fro. Sat there at the window watching
until the elephants disappeared at first light
when nature became livid with its essence,
oceans of grass as blade-thin green snakes writhing,
birds flying in ten dimensions of Dürer perfection.
I then circled earth in a warm clear bubble,
remembering the black girl from another life
who became the Virgin Mary and gave me the gift
of seeing the white moon behind a thunderstorm
where she was washed as if by a waterfall,
gave me the gift of seeing these cows and sheep,
the bear near the garden, on all sides at once.
Here I was Jim the poet drifting the edges of night,
not sure he wished to be kidnapped by the gods.

Looking back over this list I'm struck by how much it is dominated by women and translations. It's true–I've felt for some time now that the strongest American poets are women, and perhaps I gravitated toward women in translation this year because of that feeling. Of course, this list doesn't include novels and short stories, and almost all of the books I read from those genres were by men.