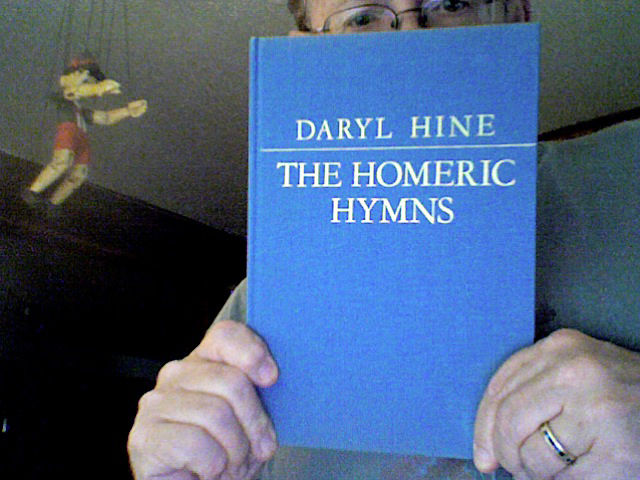 It's sad to lose Daryl Hine, even though I never became a fan of his poetry, because his translations are wonderful. I especially appreciate his versions of The Homeric Hymns. The originals come a period between 600 BCE to 400 CE—a thousand years during which Homer's epic diction was turned to more personal uses. Hine makes that point that these so-called hymns "seem at once solemn and facetious, gay and grand," shifting in style from "plainness" to "pomposity" to "slyness" to "slapstick." That he succeeds in capturing these complexities while sticking to the original meter and diction is reason enough to be grateful for his care and intelligence and to mourn their loss.
Here's a taste—the shortest of three hymns to the goddess of love:
TO APHRODITE

Reverend, beautiful, decked out in garlands of gold, Aphrodite
Shall be my song, who obtained as her portion the fortified cities
All over Cyprus enisled in the sea, where the water West Wind's
Impulse had ferried over the swell of the bellowing sea on
Pillows of billowing foam. There the Hours with their golden tiaras
Welcomed her graciously, wrapping ambrosial garments about her,
Crowning her heavenly head with a beautiful, handsomely fashioned
Garland of gold; through the lobes of her ears, which were pierced, they depended
Flowers of copper alloy and of valuable gold, and around her
Delicate neck and upon her silvery bosom adorned her
With golden necklaces just like the ones that the golden-tiared
Hours themselves are adorned with whenever they go to attend the
Lovely dance of the gods or to visit the house of their father.
When they had put all her ornaments on they brought Aphrodite
To the immortals, who having beheld her at once made her welcome,
Taking her into their arms; every one of the gods importuned her
To be his own wedded wife and accompany him to his dwelling,
Marvelling at the appearance of violet-crowned Cytherea.
Greetings, sweet ogler, lascivious spirit of kindness, dear goddess,
Grand me in this competition the victory; harness my song, and
Presently I shall remember another about you and sing it.
Why does the word "enisled" give me so much pleasure? And the piquant phrase "sweet ogler"?